The Pros and Cons of Porcelain Veneers
The aim to have this veneer is to cover yellow or chipped teeth and get a beautiful sparkling smile. Therefore, these veneers are well-known as a smile-makeover solution.
If you are thinking to go for porcelain veneers, then you might know that they are the thin pieces of ceramic fused to the outer part of your teeth.
However, we cannot deny the truth that it is the healing process which has both pros and cons. To help you know more about it, below are the listed advantages and disadvantages of porcelain dental veneers.
Pros of Getting Porcelain Veneers
1. Colour Options
Getting the same colour veneers that match your teeth is the most significant advantages of getting porcelain dental veneer. They are custom-made according to the needs of each patient. You get all the colour options while making the stained teeth whiter.
2. Stain Resistant
Veneers are very resistant to all kinds of stains as their porcelain surface is even and imperviable. So, with a porcelain veneer, you don't have to worry about the teeth colour even after having coffee, wine or other drinks and food.
3. Long-Lasting
When you have a healthy lifestyle and take proper care, porcelain dental veneer can last up to 15 to 20 years. So, we can say that these veneers are durable compared to composite veneers which usually lasts up to 7 years.
4. Instant Result
A porcelain veneer is the best alternative to brackets and other dental treatment as it does not take years to provide results. The whole treatment of this veneers is usually done within two visits to dental care. Eventually, you will be surprised to see the porcelain veneers before after results.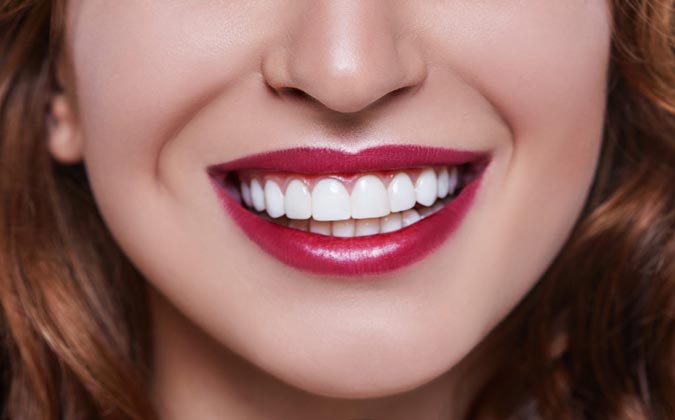 Cons of Getting Porcelain Veneers
1. Expensive
Mostly, getting porcelain dental veneer will cost you more money. Therefore, if you need to get veneers for many stained teeth, then it can go out of your budget.
2. Breakability
As stated above in the pros section that with proper care, a porcelain veneer can last longer. But it can break if you grind teeth, eat hard food or apply more pressure to teeth. Also, replacing them takes both your time and money.
3. Teeth Become More Sensitive
You might be aware that in the treatment of porcelain veneers, it includes the removal of enamel. As a result, your teeth might become sensitive to hot and cold substances.
4. Permanent
Once you have porcelain veneer, you cannot change your mind of not having the one. It cannot be re-shaped. Therefore, it has to be proper care as once broken; it is very tough to restore. Also, in case of damage, you have replaced it.
The Final Words
Despite the cons of getting porcelain veneers, we cannot deny the fact that they are the best solution for covering stained and chipped teeth. Get this veneer, observe the before after results, you will surely be amazed.
What's Your Reaction?